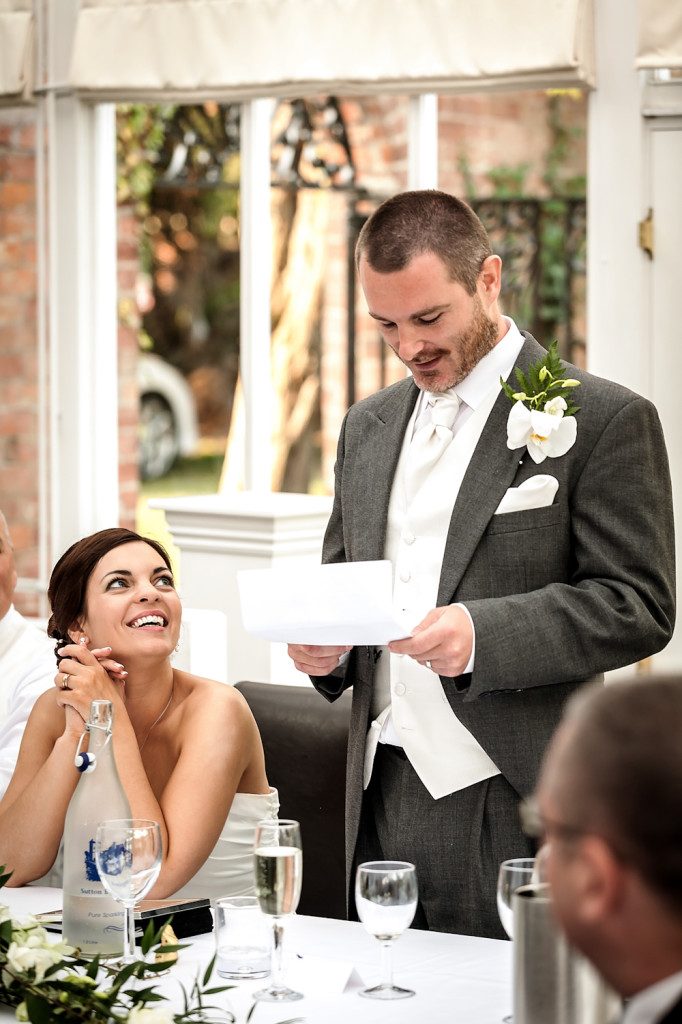 Hearing speeches is traditional at weddings.  The parents of the groom, the mother and father of the bride, the best man, and the maid of honor are often given the privilege to congratulate and propose toasts for the couple.  Other family members, friends and guests may also give their personal messages to the couple for everyone to hear.  After all the speakers are finished, the bride and groom will be requested to speak as well.  This page primarily focuses on groom speeches and tackles tips on how to write and deliver a memorable wedding speech.
The Secrets to Writing a Meaningful Groom Speech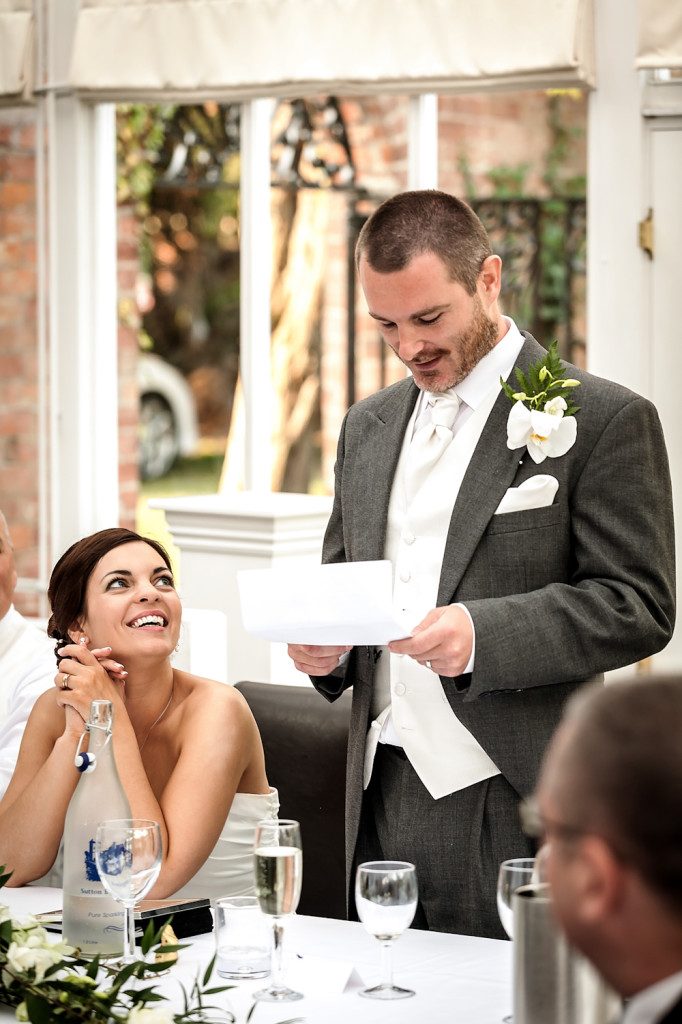 What is the secret to making your speech meaningful?  If you are a groom-to-be, consider the following tips so that writing your own speech will be a much easier task:
Express your gratitude–  This is the perfect moment for you to convey your thanks and appreciation to everyone who helped to make your wedding a success.  Surely, no wedding will be as wonderful as it is without the support and assistance from family and friends.
Do you need to mention all the names of the people you wish to thank?  Not necessarily!  If you have a long list of names at hand, including them all in your speech could take up too much time.  Keep in mind that you can still express your gratitude to each one by sending out thank-you cards after the wedding.  Nonetheless, you can pick out a few people that you want to recognize in particular such as your parents, your sponsors, or your best man.  To be sure that you will not forget anyone, jot down their names on paper.
Keep your speech short-  You do not need to recite a very long speech.  Like other wedding speeches, the groom's speech should be short and sweet.  The speech can be at least three to four minutes long.  Ideally, it should not exceed five minutes.  You should be able to say all you need to say in less than five minutes.
Keep jokes clean–  Some people are naturally funny.  Indeed, funny lines can liven up the audience but be sure that your jokes are in good taste.  Remember that people from all ages will be present in your wedding so you should steer away from jokes with double meaning.  Avoid making comical remarks that other people may find offensive.  See to it that you will not upset anyone feelings just to be funny.  You can look for groom speech jokes online and pick out the ones most suited for you.
Read groom speeches–  Groom speech examples are also available from the internet.  Don't know where or how to begin your speech?  Reading fine samples of speeches especially written for grooms will surely inspire you.
You may also use readily-made templates to create your own original speech.  Yes, you can make it unique by changing the details and by expressing your own feelings.  At the bottom of this post, you can find a link to a reputable online resource where you can find outstanding examples of speeches for the groom.
Talk to your bride–  You may have already exchanged your formal vows during the ceremony.  However, you can still grab the chance to tell your bride how happy you are now that you are officially married.  This time, you don't need to sound so formal.  You can be spontaneous or even make your wife laugh.
Acknowledge your bride's family–  You may also respond to the speech earlier given by the bride's mother or father.  Tell them how much you appreciate the advices they gave, how thankful you are to be warmly loved and accepted in their family, and how grateful you are for the love and support they have shown both you and your wife.
Wear your heart on your sleeve–  Don't be ashamed to reveal your feelings.  Many guys are not comfortable talking about their emotions.  However, there's nothing wrong or embarrassing about a groom who talks about the happiness he feels now that he has found a lifetime partner and tied the knot with his beloved bride.  On the contrary, it is so nice to hear a groom proudly tell everyone how wonderful he feels to be married.
If you get a bit teary-eyed or even if you feel like crying in the middle of your speech, don't worry.  It is perfectly okay to appear vulnerable in front of people if you can't help shed some tears of joy.  It only shows how much you love your bride and makes the occasion even more memorable.
Making Your Speech Extra Special On Your Wedding Day
After writing your groom wedding speech, be ready to spend some time rehearsing.  Even though it's just a short speech, you want to make sure that you can deliver it with passion and that you will be able to finish on time.
Will it be your first time to give a speech in front of people?  How can you deliver an impressive speech that will captivate your audience?   Consider the following pointers:
Read your speech aloud–  Instead of just reading your speech in your mind, say the lines out loud as if you are already speaking in front of an audience.  Oral reading is an effective technique if you want to remember your lines more quickly.  It is also a good way for you to practice proper pronunciation of the words to make sure that people will easily understand what you're saying.
Practice with a real audience-  You don't have to wait until the actual day arrives to know how it feels to have an audience.  You can ask your friends or family members to listen as you practice your speech.  This is a helpful way to build up your self-confidence and practice eye-contact with your audience.
Don't talk so fast–  When a person is nervous, he tends to speak faster than the normal pace.  You may not be aware of this when you speak so it's a good idea to use an audio recorder so you can hear yourself as you practice.  Speaking in this manner will only increase the anxiety you feel.  As you try to catch up with your breathing, your heart rate will be a lot faster, making it harder for you to breathe.
On the contrary, speaking slowly or at a natural pace helps slow down the heart rate, making it easier for you to breathe and be calm.  So don't try to end your speech right away by hurrying.  After all, it will be finished in just a few minutes.  Just relax, breathe, and talk in a normal pace.
Don't be a stump–  Movements or gestures are vital to bring a speech to life.  Don't just stand straight, completely still, while reciting your speech.  Use your arms and hands to emphasize your statements.  Make appropriate facial expressions that complement your words.  Furthermore, the tone of your voice should not be monotonous.  It should be in harmony with your message.  You may have the most heartwarming words but if you can't say them with feelings, it will have a much less impact to your listeners.
Do breathing exercises–  Professional public speakers are aware of proper breathing technique which helps to calm the nerves and the muscles used when speaking. Take deep breaths by inhaling through your nose, allowing your stomach to expand, and breathe out slowly.  Do this once or twice before you begin your speech to release the tension you may be feeling.
Concentrate on the message-  People who are not used to speaking in front of an audience lack confidence in themselves.  Are you afraid that the guests will laugh at you if you fail to deliver a good speech?  Do you think they will make awful comments about the way you delivered your speech?  If you have such ideas in your head, forget about them.
Those people are there to witness and be part of your matrimony.  They are your friends and loved ones- people who are important in your life.  They are not there to criticize your speech so there is no point in being overly concerned about it.  What you should do is think positively and not to entertain negative ideas.  Focus on the message you want to convey.  Indeed, having a healthy state of mind is crucial in building self-confidence.
Smile and be yourself-  You don't have to try to act like someone else just to look cool or impress the guests.  After all, you are the celebrant and it is your wedding day.  People are there to celebrate with you and your bride so smile, be yourself, and enjoy every moment.
If you want to read excellent examples of  groom speeches online, please check out groom speeches here.  This presents 25 time-tested, proven speeches which were especially written for groom-to-be's.  Apart from sample speeches, you can also read a step-by-step guide on how to write your original speech from scratch; inspirational quotations on love and marriage; witty, clean, funny one-liners that you can add to your speech; and practical tips on confident public speaking.