The best wedding speeches never fail to touch the heart and soul of listeners.  Yes, what makes a speech truly beautiful is when it is able to move the audience.  This can only be possible if the speaker has taken the time to prepare and practice the speech.
Writing Meaningful Wedding Speeches Is Easy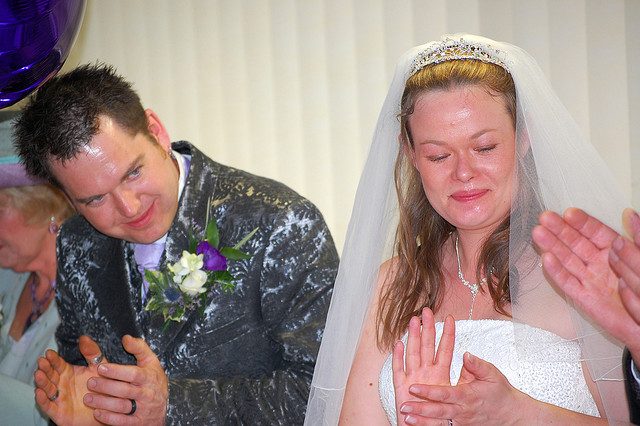 Is it difficult to compose a meaningful speech for a wedding?  Not at all!  In this article, we have provided useful tips on how you can write your own, original wedding speech from scratch.  Do you think you don't have a knack for writing?  Then, consider the following suggestions:
Read sample speeches– You can find sample speeches online that are sure to inspire you.  Look for speeches that are especially written for a particular need.  For instance, if you are a father of the bride, you can look for father of the bride speeches and simply follow the pattern of writing.
Checking out professionally-written speeches should give you ideas as to what you can say or include in your speech.  You can even pick out one speech that you feel most comfortable with.  You can turn it into your own, unique speech by changing the details and adding your personal touches.
Observe correct structure-  Knowing the correct structure will make it easier for you to put your ideas together.  A wedding speech always has three basic parts – the introduction, the body, and the conclusion.
The introduction is where you can do the formal greeting and acknowledge the people who are present on that occasion.  Some speakers may sing lyrics from a song or recite stanzas from a poem as their opening lines.  If applicable, you can express your thanks to everyone who offered their assistance and support to make the wedding a success.
What can you include in the body of your speech?  Here is where you can talk about memorable experiences you share with the bride or groom.  Be sure to focus on the positive things and avoid talking about sad or annoying events.  Reminisce happy times that are relevant to the occasion.
If you are a parent of the groom or the bride, you may consider including one or two marital advices for your children.  However, bear in mind that nobody wants to listen to a sermon on marital bliss.  Keep the tone light and be careful that you don't get too immersed on this part of your speech.
The conclusion of the wedding speech is probably the easiest portion to write.  You can simply end your speech with congratulations and best wishes, before raising your glass to propose a toast for the newlyweds.
Speak from the heart-  What would you want to say to the couple on their wedding day?  It should not be hard to express the happiness you feel to witness a person you love find joy in marriage.   Whether you choose to convey this in your own words or borrow another person's words does not matter.  What's most important is that you genuinely mean the words you say.
Recount a memorable event-  Can you recall a delightful or funny incident that involves the bride or groom?  It can be an episode from his or her childhood, early teens, or college years.  It can also be something that happened more recently.  What is it about that incident that always makes you smile?  The audience would surely love to hear such a story!
One word of caution though.  Be sure to steer clear from stories that has anything to do with the bride or groom's past relationships.  Accounts that involve ex-boyfriends or ex-girlfriends should never be mentioned in wedding speeches.  Even if the story happened long time ago or the relationship has ended, recalling such incidents can bring about unpleasant feelings.
Keep your jokes clean-  It is perfectly okay to make jokes or include hilarious stories in your speech.  In fact, nothing brightens up a wedding speech better than a great sense of humor.  Just make sure that your jokes are clean and are not offensive to anyone.  Remember too that there will children present during that occasion so you should avoid jokes or stories that are not wholesome.
Watch the time-utes.  Keep in mind that other speakers will be waiting for their turn to speak so be mindful of the time.  You don't want to take away precious minutes from other speakers just because you have a lot of stories to tell.  Be considerate.
Deliver a Speech that Captivates and Moves the Audience
What does it take to captivate and move an audience?  You must deliver your speech with confidence and feelings.  However, you may say, "I have never done a public speech before, how can I deliver my speech with confidence?"
True, it is normal to feel nervous especially if you are going to speak in front of a big audience.  If this will be your first time to deliver a wedding speech, it is understandable for you to feel a bit of anxiety.  Still, you are not the only one.
Even experienced public speakers admit that they still feel nervousness whenever they are invited to be a guest speaker.  Thus, prior to their public engagements, these seasoned speakers do take the time out to prepare for their speech and practice.
You can do the same thing in order to build up your confidence.  Hence, when the actual day of the wedding arrives, you will be ready.  Here are some things you should remember when practicing your speech:
Practice often and repeatedly–  Who says veteran speakers don't need to rehearse?  Whether you are an experienced speaker or a first-timer, practicing is a vital part of the preparation.  Practice often until you feel comfortable delivering your speech.
As much as possible, you should give yourself a few weeks to rehearse before the wedding day.  Short but regular practice sessions are better than long yet sporadic sessions.  You don't have to spend hours practicing.  Even a few minutes of rehearsal each day will make a big difference.
Speak and listen–  It is a good idea to record your own voice with an audio recorder so you can hear yourself and become aware of your good points as well as recognize areas that need improvement.
Request an audience-  Ask a friend or a family member to help you out by acting as your audience.  Having a real listener is very helpful for you to develop confidence and enhance your speech qualities.  For instance, you can practice eye-contact, hand gestures, and facial expressions when someone is there to listen.
Breathe and relax-  Some people tend to forget proper breathing when they are nervous.  As a result, they may find it difficult to talk and may run out of breath.  Instead of being relaxed, you are bound to feel more tensed.  So instead of trying to talk so fast, stop for a moment.  Take a few deep breaths until you are ready to speak.  Don't forget to take pauses at appropriate intervals so you can have time to catch your breath.
Don't be a robot-  Just standing up perfectly straight and still will not help you calm down at all.  It will only increase your nervousness.  On the other hand, moving your hands and making some gestures will relieve the tension you are feeling.  More importantly, gestures and facial expressions are essential elements to liven up your speech and capture the attention of your listeners.
Avoid memorization–  Knowing your lines by heart will enable you to speak more naturally compared to just reading your entire speech from a piece of paper.  However, memorizing your speech is not advisable.  You don't have to recite the exact words you've written if you can't remember them.  As long as you know the substance of the statement you want to convey, it's okay to be spontaneous.
Bring a note-  Instead of writing down your entire speech, use an outline instead.  Even veteran speakers can suddenly get stuck in the middle of his or her speech and may need a few seconds to continue.  Even if you can perfectly recite your speech during practice, you may also find yourself suddenly lost for words when the actual moment arrives.
This can happen when you are overwhelmed with emotions or perhaps seeing such a big crowd looking at you can make you become speechless. If you have a note with you, you can simply glance on your outline and continue where you left off.
To find excellent samples of  wedding speeches online, check out www.weddingspeechesforall.com.  The website offers beautiful, meaningful and professionally written speeches for everyone.  Each sample speech is unique and written for a special person.  You can read best man speeches, maid of honor speeches, as well as speeches for the parents of the bride and groom.  The website also presents inspirational quotations and funny one-liners about love and marriage that you can use in your own speech.  Finally, you can read more tips on how to write a wedding speech on your own and pointers on impressive public speaking.