The concept of adding wedding wishing well to a big special event for a couple who is getting married is a practical choice. Giving money as a wedding gift to the bride and groom is becoming popular these days. The tradition of giving wedding gifts in kinds is sometimes changed by the idea of wishing well. If you are going to marry your dream man or woman, try considering this concept. If this is already what you and your partner have thought about, here are ideas and tips to follow.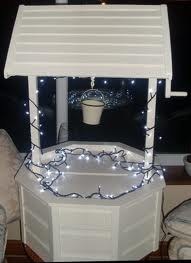 You can make your own wedding wishing speeches. A personalized wishing well is not difficult to create anyway. You just get a box or any small container you can use. Let your creativity come out by designing it. There are lots of ideas on how you can create one. The most important of all is to know the design you want.
When creating a wishing well wedding concept must be present. This means that the color of your wedding theme is your basis of selecting the right color of the box you are going to use. You need to match your wishing well for wedding with the overall theme. The box or container must be painted white then add motif-based ribbons and laces to add touches to it. This can enhance the beautiful look of your wedding speeches.
The box you are going to use for your wedding wishing well must be appropriate in size. Do not use something that is too big which may think you as a gold digger. However, it is not also good to have a very small box because that may tend to limit the amount of money you can collect. Furthermore, make a hole that is large enough for coins and bills as well as checks to be inserted. Otherwise, your guests may change their mind putting their money in the box if there is difficulty inserting coins and bills.
Before you send out all invitations, make sure that you include this matter to inform all your guests. This can give them preparation and consideration whether to give you gifts on hand or through monetary means. Probably, some of them may like to give you both choices. That would be very wonderful on your end. Just make sure you do not force them to give you monetary gifts. It is better to simply mention it and just let them know that there is an option in giving their wedding gifts to you.
Keep in mind that wedding wishing is one of the things you have to display on the table where your wedding favors are found. Thus, you must create a label of your wishing well for guests to easily see it. You may add some wedding wishing poems on it too. If you want to be more personal, you can make your own original lines of wedding wishing well wording.
If you do not have an idea of a poem or personal messages to add, you search on the Internet where you can read some good samples. Examples of wishing well wording wedding are better to copy since they are already grammatically corrected. Plus, you do not want to give extra time thinking of the right words to say. You better invest your time writing your own wedding speech than making your own poem for your wishing well.
Speaking of wedding speeches, you must also learn some essential tips and read samples of wedding speeches and toasts. This can help you make a wonderful wedding speech you can share to your new spouse, family and friends.