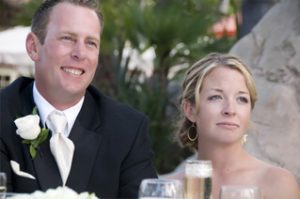 To be chosen as the best man in a wedding is truly both an honor and a privilege.  This title can only be given to one person who shares a special relationship with the groom.  Thus, in most weddings, it is often the brother of the groom or his best friend who is given this role.  In this article, we will discuss practical and useful tips on how you can deliver a remarkable best man speech and where you can find fine examples of best man speeches.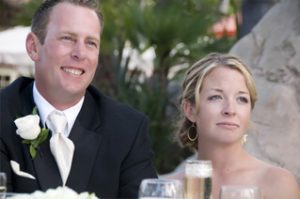 Getting to Know Your Best Man Duties
Being a best man is more than just a title. Indeed, this guy is expected to perform important tasks before and on the wedding day. Let us first take a look at some of his responsibilities during the period when the wedding preparations are taking place.
As the man closest to the soon-to-be groom, the best man must be willing to take the time out to help with the tasks that needs to be accomplished.  These may include accompanying the groom to the tailoring shop to pick out his suit or do fittings; volunteering to make the necessary calls or confirm appointments; and giving a hand where needed.
Sometimes, the groom may choose to let his best man keep the ring until the day of the wedding.  Obviously, being the ring keeper and bearer is a serious responsibility and one that should not be overlooked or taken for granted.
The best man is also in charge of organizing a surprise stag party for the bachelor who's about to tie-the-knot.  After all, no one knows the groom-to-be as well as you do so you are the perfect person to make plans for this event.  As the best man, you should send out invitations to all the men who are relevant to the groom to celebrate the up-coming wedding of your best friend or brother.
What about the best man's duties on the big day?  Well, it is he who stands beside the groom as they watch the parade of the entourage and finally, as the groom awaits his bride as she walks down the aisle toward him.  And when it is time to wear their rings, the best man may also be the one to do the honors of handing the bands to the couple.
Best Man Speech Ideas to Inspire
There is one more obligation that the best man must do and that is to give a speech after the ceremony or during the reception.  Traditionally, speeches are recited by the parents of the bride, the parents of the groom, the members of the entourage, as well as friends and guests.  The best man and the maid-of-honor lead the list of speakers, following the parents of the newly-weds.
Have you been given the honor to be the best man in a wedding?  If yes, what are some of the things you should remember in preparing your speech?  Read on the following reminders which can help you:
Write the draft.  It is always a good idea to jot down your thoughts so you can arrange the ideas in the proper order and omit unnecessary details from your speech.  What are the things that you want to include in your speech?  Write down everything that comes to mind and be ready to edit it later.
Pay attention to the structure.  The next step is to organize your ideas. What is the proper best man speech structure?  Basically, your speech must have an introduction, a body and a conclusion.
In the introduction, you may begin by greeting everyone who is present on that day – the family members and the guests, as well as the couple.  Other speakers start their speech by reciting a famous quotation or lines from a song.
After the opening, you may include one or two stories that involve the groom or reveal one or two things about the groom that others may not know.  Keep in mind that you want your speech to add happiness to the joyful occasion so avoid telling stories that may upset anyone in the audience.  It is perfectly okay to make the speech humorous, as long as the funny lines are all in good taste.
In the last part of your speech, you may turn your attention to the bride by giving her compliments.  Then, you can conclude by congratulating the couple, wishing them the best, and raising your glass for a toast.
Don't talk about ex-es. It is very rude to talk about your brother's or best friend's past relationships on the day of his wedding.  Even though the relationship has ended a long time ago, hearing stories about it may bring about unpleasant memories or hard feelings to the groom.  Worse of all, the bride might feel hurt or even embarrassed that such events are being reminisced at such an inappropriate time and place.  Be sensitive and always consider how your message will affect other people's feelings, especially the groom's and the bride's.
Keep it light and short.  There is no point to be overly dramatic about the whole thing.  The bride's father or the groom's mother is usually expected to become teary-eyed or even cry while giving their messages but as the best man, it might seem weird if you will get too emotional.  After all, it is a joyous occasion.
You should also keep your speech short and to the point, making sure that it will not be longer than three minutes to five minutes, at the most.  You do not want to bore the audience with an elaborate speech.
Practice aloud.  Once you are done writing down your speech, spend some time practicing.  Remember, a meaningful message will be even more memorable if you can deliver it in a splendid way.  In fact, even experienced public speakers do practice.
Initially, you can read your speech out loud as many times as needed until you can say most of your lines from memory. Of course, you can bring a note and glance on it in case you get lost for words but you will be able to speak naturally if you will not read from a copy.
Once you know your speech by heart, practice in front of a mirror.  When it comes to public speaking, gestures and facial expression are crucial to capture the audience's attention and most importantly, to emphasize your message.  So if you're telling a funny story, relax and let your eyes smile.  When uttering your wishes and congratulations, smile and let your happiness show.  Your animated spirit will not only captivate your listeners, but will also transcend the feelings you want to share.  You can even use an audio recorder so you can hear your own voice and observe the points you need to work on.
Practicing will help you to build up confidence so you can present yourself as best as you could.  Another thing you can do is to practice in front of a person or in front of your friends so you can get the feel of having a real audience.
Stand up tall.  Some folks are not comfortable speaking in public.  If you're feeling nervous, that is absolutely normal and understandable especially if it will be your first time.  However, you can still show confidence simply by standing up straight instead of slouching.  Also, take one or two deep breaths before starting to speak and you will notice that you will feel less tensed and calmer.
Try not to think of the large crowd in front of you or what they might be thinking about you.  Instead, focus on your message and to the two people to whom you dedicate your message – the groom and the bride.  Imagine that you are just talking to the two of them.  Keep in mind that the people are not there to judge how well of a speaker you are.  They are there to celebrate love!
Stay sober.  One word of advice for men in general is to drink alcohol beverages in moderation.  Wine or other spirits are often served at weddings but be careful that you don't get intoxicated or tipsy.  Even after you are done with your best man speech, see to it that you do not drink more than you can handle.  On the other hand, if you are well aware than even just a small amount of alcohol can make you light headed, it is best to avoid alcoholic beverages altogether, at least until after the occasion is over. Exercise self-control and discipline.
Read best man speech examples.  Look for outstanding sample best man speeches online so you can be inspired to write down your own.  In fact you can pick out the best man speech template that suits you and make it your own simply by changing some of the details or adding a few lines to it.   Don't worry.  As long as what you say comes from the heart, your speech will still sound original even though you created it out of a readily-made template.
Click here for great resource. we offers 25 proven, time-tested and professionally written best man speeches to inspire you or you can even use as your own.  Aside from sample speeches, you can also find hilarious wedding quotations and one-liners to liven up your speech; a step-by-step guide on how you can write your own best man speech from scratch; as well as tips on how to be an effective public speaker.