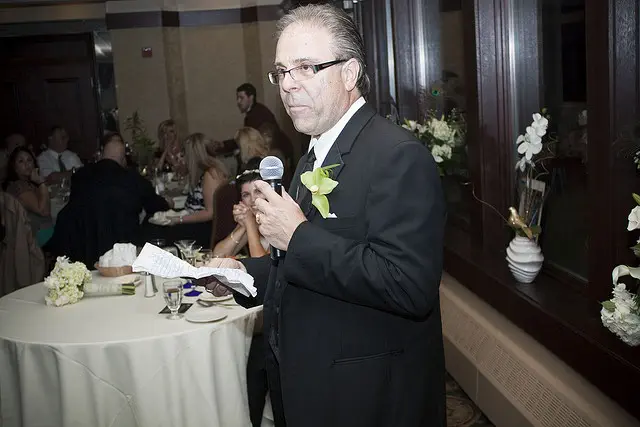 So your little girl is about to get married, and you will play a vital role in her beautiful, memorable nuptials. You will walk her down the aisle, give her away, and stand back to watch with tearful pride as she enters a new, very exciting part of her life; at the same time always remaining your little girl.
Sounds like a wonderful, downright dreamlike day, doesn't it; a day in which you will be respected and revered as the father of the bride.
Ah, but wait a moment; you also have to give a speech.
Even the most vocal and articulate father often balks at the idea of delivering a father of the bride speech; for while he may be an old pro at addressing a corporate board room, the loving father will find a particular challenge in coming up with the words to honor a young lady who totally leaves him speechless.
Sure, others at the wedding may have little trouble teasing and toasting the bride, who to them may be a sister or friend. Yet to you, the father of the bride, this very special woman is your little girl. An extraordinary person who you helped bring into the world, who you nurtured and raised.
Sure you were there at her first birthday party, when she learned to ride a bike, on the nights of her first big game and her senior prom, and of course at her graduation; and while you no doubt were overwhelmed with emotion at these significant life milestones, you did not have to stand up and put these overwhelming emotions into words; to communicate just how you feel about this wonderful young lady, to articulate your fondest and deepest wishes for her future.
This occasion, on the other hand, calls for a speech. And while the challenge of paying tribute to your beloved baby girl may be an intimidating one, it is not impossible; and, believe it or not, it just may be enjoyable.
That's right, Dad; as difficult as it may be to believe, you can anticipate and savor the experience of a father of the bride wedding speech. After all, this is your big chance to tell the world just how much you love that precious daughter of yours; to let everyone know just what an exemplary young woman she is–and, darn it, that new husband of hers had better appreciate that fact!
A father of the bride speech is also your opportunity to show off your superior oratorical skills, your keen sense of humor, and your ability to move and impress your listeners.
Yet to accomplish all of these far reaching goals, you first must study and master how to give a moving and memorable father of the bride speech. With the right amount of thought, practice and preparation—and, above all, a true desire to make your little girl proud of you on her wedding day—you can make this speech a great one.
So how do you go about planning and delivering what could be the most important speech of your life? Well first of all, try not to think of it as the most important speech of your life.
After all, although a father of the bride speech is indeed a once in a lifetime (or so we hopeJ) experience, one that will be witnessed by all your friends and family, it is not what one would call a critical oratory. You won't lose money or any big business deals if you do not succeed at this speech; it is far from a life or death matter. And your audience will consist, not of employers, business partners or oratorical judges, but of people very close to you, who no doubt will welcome and savor any message you bring them.
Indeed, don't regard the speech as a burden or responsibility, but rather as a fun and meaningful opportunity to show everyone just how special your daughter is—just how much she means to you and your family.
Most of all, you want your daughter to remember the speech as a glowing tribute to her; just another part of what made her wedding day the best day of her life.
So in approaching the composition of this speech, just ask yourself what should be a fairly simple question: What do you want people to know about your daughter?
If you could describe your daughter to someone who does not know her, what would you say? Would you praise her intellect, her charm, her kindness, her beauty? Ah, you're her dad; you are probably more than willing to shout to the rooftops about these and other attributes that your daughter displays and possesses. So be sure to mention all of them in your speech.
Next think of anecdotes and stories that will affirm and bring these attributes to life in the minds of your listeners. Talk about how proud you were when you saw her graduate college, how you shed more than a few tears when she adopted a rescue dog or did a charity project, how lovely and dazzling she looked in her prom dress, etc. Aside from entertaining your audience (instead of say, just keeping them awake until they get their wedding cakeJ), you will be taking a walk down memory lane with the gal who just walked down the aisle.
After you have ventured to share so much of your family history, bring your daughter back to the present by honoring her marriage. Talk about how absolutely radiant she looks in her wedding gown. Talk about what a wonderful wife she will make, this due to her kindness, her maturity, and her immense capacity for love. And, of course, be sure to mention, honor and acknowledge the man she married that day.
That's right, Dad; you do have to mention HIM, the man your daughter married, in the context of your father of the bride speech. Be sure to express your pride and confidence in your new son in law, listing all of his positive attributes and reinforcing this list with a smattering of anecdotes that prove and validate them. Reinforce your approval of your daughter's choice, and wish the couple all the happiness for the future.
Also be sure to acknowledge other family members throughout the course of your speech. Take this opportunity to welcome your son in law's parents into your family, acknowledging also his siblings, other family members and friends who attend the ceremony that day.
If you are not strongly interested in sleeping on the couch that evening (and, for that matter, for many evenings to come), you should mention and honor your wife, the mother of the bride, several times during the course of your speech. Talk about what a remarkable woman she is, and about the major role that she played in raising your daughter.
And be sure to talk about your other children, the bride's brothers and sisters, as they may feel left out or overshadowed as their sister takes the spotlight on the day of her wedding.
Finally take the time to honor your parents and grandparents, aunts and uncles, and all of those who also play a pivotal role in your life, and the life of the bride; whether they are living or dead, they helped to form your family and its history.
Putting together father of the bride speech
Now that you have determined what to say in your father of the bride speech, you must determine just how to deliver this speech. After all, even if you have written the sweetest and memorable speech possible, if you rush through your speech—or, just as bad, deliver it in a slow, dull monotone—then you are likely to lose your audience.
At the same time, delivering your oratory in a loud or overly formal manner also will detract from its depth and meaning. What you may wish to do instead is speak in a way that is warm, personal and conversational. You know and love the people you are talking to; let this love show and shine through your method of delivery.
In pondering how to give a moving and memorable father of the bride speech, you want to consider each and every listener who will be in attendance at the wedding; from your wife to your mother, your best friend to your distant cousin, your clergyman to your caterer. Always remember, though, the woman who provides for the reason for the day; and, to an extent, your reason for being: your daughter, the bride.
In delivering your speech, address most of your words in the direction of your beloved daughter. Look into her eyes, smile at her, talk to her. Let her know all the many reasons why you love her, all of the qualities that make her so very special. Convey your fondest wishes for her happiness and future, make her feel your love.
After your speech her wedding will go on; other friends and family members will wish her well, and the celebration will proceed. Yet when the day is over, she will remember your words the most; she will take them with her as she ventures off to her new and exciting life.
For more information about how to give a moving and memorable Father of the Bride speech, click here to find out about a great speech pack that can help you give the ultimate oratory; one your daughter and other guests will always remember.