Have you been chosen to be a maid of honor on your friend or sister's wedding?  Are you looking for tips on how to create a meaningful speech?  Are you looking for fine examples of maid of honor speeches to inspire you?  If yes, then you have stumbled upon the right article.
In a traditional setting, wedding speeches are heard during the reception.  The parents of the bride and the groom are the ones to speak first, followed by the members of the entourage, led by the best man and the maid of honor.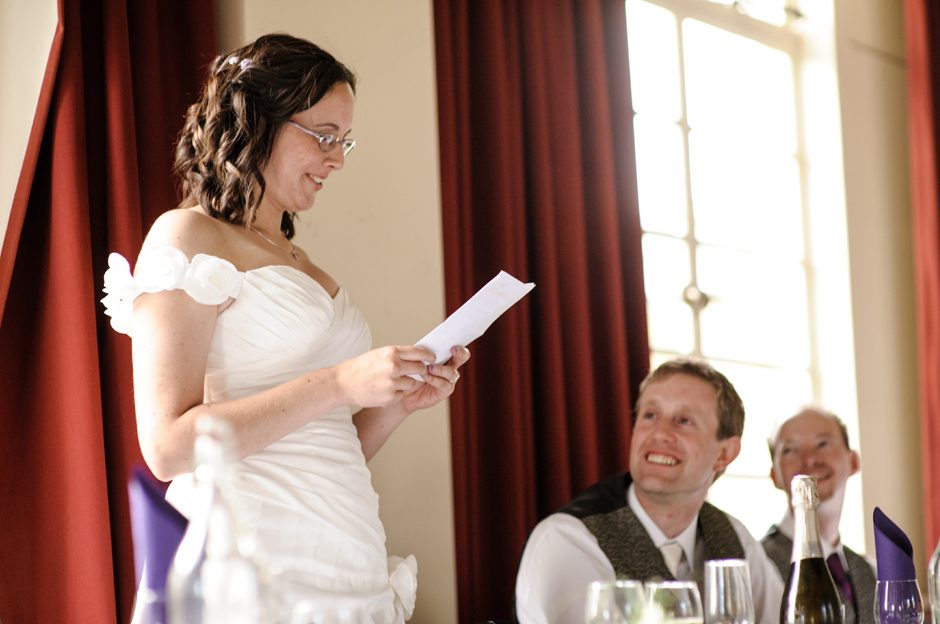 But did you know that the maid honor also has other duties aside from giving a speech? On this post, let us talk about the responsibilities of the maid of honor, as well as practical suggestions on how you can write a maid of honor speech for your friend or sister.  Afterwards, we will discuss pointers on how you can deliver your speech like a professional public speaker.
Important Duties of the Maid of Honor
Ever wonder what are expected of you as the maid of honor?  Read on these paragraphs to get a better idea:
Organize the bridal shower-  Yes, making the necessary arrangements for the bridal or bachelorette party lies upon your shoulders.  This party is supposed to be a surprise for the bride, where she will be joined by friends or the most special women in her life.  Thus, it is your duty to organize the party and send out invitations to the bride's girl friends.  Keep in mind that this will be the last social gathering she will attend as a single woman so it has to be a joyous, memorable celebration.
Helping with the preparations-  The bride chose you to be her maid of honor because she undoubtedly feels closest to you.  Hence, you are expected to take the time out to help with the wedding preparations as much as you can.  For instance, you must accompany the bride when she chooses her gown or does her fittings.  You may also volunteer to take on other chores to relieve the bride of unnecessary stress and exhaustion.  Indeed, the ideal maid of honor is someone who is genuinely concern and will do anything in her power to make her friend or sister's wedding as wonderful as it can be.
Carry the bride's train–  If the bride wears a gown with a long train, the maid of honor must be the one to carry it when she walks down the aisle.  In fact, it is also your duty to personally attend to the bride's needs during the entire day of the wedding.  Your tasks may include carrying the bride's purse, carrying and handling her things she might need, and delivering messages on her behalf.  In short, you will be the bride's dedicated assistant on that special day.
Giving the maid of honor speech–   As mentioned at the beginning of this article, you will have the privilege to give a public message to the newlyweds.  Of course, it is best to prepare your speech as early as possible so you can have more time to practice the delivery and perform your other tasks too.
How to Write an Excellent Maid of Honor Speech
Creating a brilliant speech is not difficult at all.  Consider the following tips:
Write from the heart–  Here is your chance to express your love for your best friend or sister.  How much do you cherish your relationship as best friends or as sisters?  How happy are you now that she has found her lifetime partner and is finally getting married?  If you will focus on what you really want to say and not on impressing other people, composing the speech should be a lot easier.
Be inspired by other maid of honor speeches-  You can find exemplary maid of honor speech examples online that can inspire you to write your original speech.  Some speeches are written especially for best friends but you may also find maid of honor speeches for sister.  You can even read funny maid of honor speeches if you want to make your own speech humorous and light.
Can you take a readily-made speech and recite it as your own?  Why not!  You can still make it unique and personal simply by changing the lines, the details and the stories.  Once again, speak from your heart and you should do well.
Share a memorable story about the bride–  As the bride's closest friend, there is no doubt that you have shared countless memorable moments together.  Why not relate to the audience one or two anecdotes that never fail to make you smile?  Just remember not to mention any stories that involve the bride's past relationships or ex-boyfriends as you don't want to bring up unpleasant feelings or upset anyone.
Keep the speech short-  A wedding speech is not supposed to be very long or elaborate.  Preferably, you want to finish your speech within three to four minutes.  A five-minute speech is okay if you can share really interesting stories that will captivate the audience.  However, be very careful that you don't exceed the five-minute limit.  Other speakers will be following after you and it is very rude to take away their time.
The Secret to a Speech that Captivates the Audience
After writing your speech, the next essential step is practice.  As the popular adage goes, "Practice makes perfect!"  Indeed, even seasoned speakers do rehearse their speeches before they stand on the podium and face the crowd.
It doesn't matter whether you have done this before or if it will be your first time to deliver a speech in front of an audience.  If you can practice the delivery of your speech, you will gain confidence and be more at ease when the actual moment arrives.
Below are some tips that you can apply to get the most out of each rehearsal:
Speak in front of people-  You don't have to wait until the wedding day to get the feel of having real listeners.  Ask friends or family members to be your audience each time you practice.  You can also ask them what they have observed or what they can say about your delivery.  Take those comments as constructive assessment so you can work on improvement.
Hear yourself speak-  It is a good idea to use an audio recorder and listen to yourself deliver the speech.  What can you say about your performance?  Were you able to say your lines with feelings and conviction?  Do you sound believable?
The tone of voice is a vital element in public speaking.  How you pronounce the words and the way you say them makes a big difference on how you convey your message.  Listen to yourself and pay attention to your tone, pronunciation, and pausing.
Don't forget to take short pauses when appropriate and a slightly longer pause when introducing a new story or a new train of thought. As you continue to practice, you will surely notice improvements with the way you recite your speech.
Use a mirror-  Aside from tone of voice, proper gesture is another essential factor when speaking in public.  The way you move your hand, sway your head, and your facial expressions are all key ingredients in giving a remarkable speech.  Practicing in front of a mirror will enable you to watch your gestures and make the necessary improvements.
Breathe and relax-  Before opening your mouth to begin your speech, take a few deep breaths first.  Be sure to breathe in with your nose and breathe out slowly.   This will slow down your heart rate and help you become relaxed.
Internalize-  Don't worry so much about what other people will say about you.  Instead, focus on your message, not on the people around you.  They will not judge you as to how great a speaker you are.  They are much more interested about the bride and the groom so chill out, and enjoy the moment.
Bring a hanky-  If you're an emotional person or someone who easily cries, don't forget to bring a handkerchief to wipe your tears with and still maintain your composure.  A lot of people do cry at weddings so it's not something to be embarrassed about. Nevertheless, it would be weird to see the maid of honor cry out loud at her sister's or best friend's wedding.
Smile and celebrate-  A wedding is a happy occasion.  It's a day to celebrate two people's love for one another.  There should be no room for a frowning or a sulking face on that day.  Even if you're feeling a bit tensed or nervous, try to smile and consider the joy of that event, and you will surely feel a lot better.
Prepare a note–  Even if you know your speech by heart, it is still recommended that you prepare a note that you can use just in case you get lost for words right in the middle of your speech.  Yes, it can happen to anyone, even to an experienced public speaker.  The overwhelming emotion or the excitement in the air can make anyone speechless.  If this happens, a note will come in handy and will save you from embarrassment.
By following all the tips discussed in this article, taking on your task as the maid of honor should be a breeze.  To read outstanding samples  maid of honor speeches please click here. This also offers inspirational quotes on love and marriage that you can add to your speech along with more tips on effective speech writing and public speaking.