You can easily make father of the bride speeches if you follow the simple tips I will write in this article. I also followed some of the tips I used during my speech writing and I made a good speech at the wedding of my daughter. If you can follow some of the guides here, I guarantee that you can make a good speech as well. I also advise you to seek professional help if you can. It's really not that easy to write toasts and speeches.
It was also very headache inducing for me at first to learn that I have to make a father of the bride speeches during my daughter's wedding. But I don't want to fail or embarrass my daughter. That is why I scoured the Internet for tips and tricks about speech writing. Here are some of the best tips I found online.
Use plain English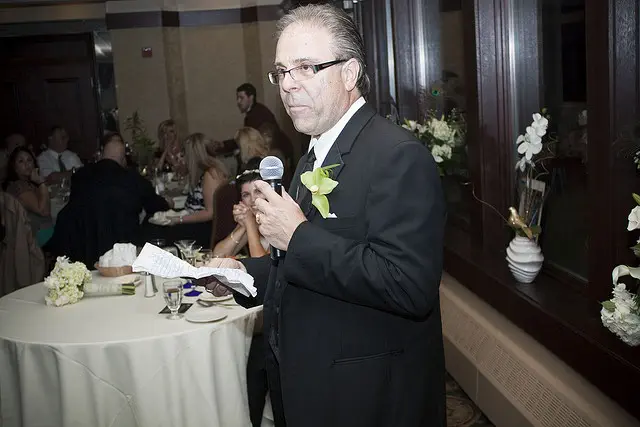 When writing a speech or toast, write in conversational English. Just use everyday words as opposed to using hundred dollar words from a thesaurus. using simple words will ensure that you will cater to an audience of all ages and educational level. Not only that, using simple words will also make your speech sound casual and fun rather than sounding like a strict sermon.
Use short sentences
When writing conversational, everyday English, use short sentences when populating your paragraphs. Just use about 4 to 5 sentences for a paragraph to make it coherent and for the sake of brevity as well. Shorter sentences and paragraphs will enable your speech delivery to be much more succinct for the any kind of audience you will have.
Use sentences will also allow you to memorize your speech better and faster.
Make up a single theme
Come up with a single theme, topic, or thesis statement for your speech. For example, you can have a thesis statement about marriage being fun and rewarding but full of responsibilities. That is all you need to do for a topic, then you just need to stick to this one topic to make it easier for you to construct the whole speech.
Remember that you can't cover every aspect of married life, so it's better to just stick to a single over-encompassing topic rather than be all over the place.
Use powerful imagery in your speech
Use colorful and descriptive words when writing your toast or speech. Be as creative as you can. Follow the "show, don't tell" policy in creative writing in your speech. This will engage your listening audience better than just stating some obvious fact or anecdote.
Professional help
You can search the web for professional speech writing guides and tips. You can find sample father of the bride speeches online to make as a pattern to your own writing. If you need some more professional writing tips and samples click here.